As per usual for the time of year we've had a lot of new sellers arrive recently to join us in Fabrication, so we thought it was about time we gave you a round-up of who's new in store. So, in no particular order, we are pleased to introduce to you…
Creation Crafts
Creation crafts sell both finished products or, for the crafter, the paper is available in sheets. The beautiful designs are based on kimono fabrics and are all hand printed in Japan.
Little Wings Butterflies
If you are looking for an unique and bespoke little gift come and have a look at my beautiful butterfly frames. Each one is handmade with paper cut butterflies and mounted with their wings slightly bent to give a lovely eye catching 3D effect . I create different pieces each time but I can make personal frames to order by adding a name, date of birth or any colour scheme. Please find me on Facebook or go to Fabrication for more info.
 
Zoe Barber Design
Handmade jewellery in silver with quirky detail in brass, copper and polymer clay.
Street Lane Framing
I frame all items from pictures to shirts. Make mirrors and undertake various crafting projects. You name it, we frame it. 
Pattern Passion
Preeti's love for nature reflects in her designs which she draws and paints with passion. These unique handmade patterns adorn silk womenswear, scarves, cushions, purses, wristlets and art prints. 
 Spider & Fly
At Spider & Fly I believe childhood is too short for boring clothing. I try to create colourful and exciting clothes for babies and toddlers that are also functional. It all started when I had my son and was disappointed with boys clothing on the high street – not willing to settle I started making things that were fun and made to last. 
 Hollybush
At Hollybush we run training short courses in basic woodwork open to everyone.  Alongside this we have ongoing sessions for adults with learning disability and mental health recoverers. Producing items to a saleable standard is an important part of our ethos.
We make simple items from recycled pallets and sustainably sourced new timber. Some items are hand painted mainly by two talented ladies from Poland. A range of larger items and bespoke commissions can be obtained by contacting us.
Delighted to bring our curve roofed hedgehog homes, robin boxes, boot pulls and painted trugs to Fabrication.
We are planning to involve several of our long term volunteers in supporting our unit at Fabrication.
Guppy's Chocolates
Guppy's Chocolates are Peter and Fran Guppy and we are passionate about all things chocolate! All our delicious chocolates are handmade & hand packaged from our family-run premises in York. We pride ourselves on carrying on the family traditions of the Rowntrees and Terry's families, handmaking great quality chocolates in the City of York.
Naturally Thinking
High quality aromatherapy based products made from carefully sourced ingredients.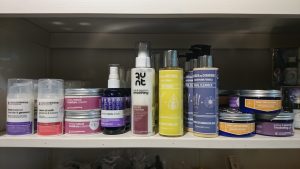 Beyond Benefits
Luxury handmade body products made using aromatherapy principles to benefit your body and mind