It's one of those Day's which can feel like a bit of a challenge – how do you come up with something for the father figure in your life which will make him smile but not break the bank? Luckily our sellers have been hard at work to come up with some solutions for you…
If you're after a card, why not take a look at some of these from these retro cards from original photos by Richard Heald:
For the food lover, then we have these cute biscuits in store from Bloom Bakers which can even be personalised with your own message (price from £11 for a box):
Or for something that will last the year and longer, you get some of these colourful beaded wine glass charms (£10 for a set of 5) or crochet mug cosies or cafetiere with crochet jacket (mugs £6.50, cafetiere £12):
For the man who likes to look after his appearance we have these beautiful ties from Pattern Passion. Originally hand drawn or painted by Preeti, the designs were digitally transferred onto the finest silks to create these wonderful ties. The designs are inspired by nature. The vibrant North moors tie is a handpainted pattern inspired by the beautiful colours of North moors. The botanical tie is a handpainted design of little vibrant wildflowers. The skeletal leaves tie is derived from a hydrangeas skeletal leaves pattern.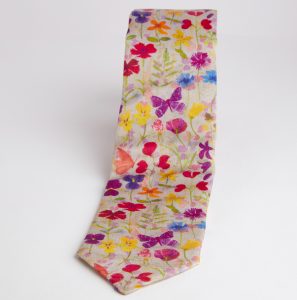 Or a variety of cufflinks from sellers such as Galea Belinscaia Studio Pottery and Fiftyeleven.
Galea's cufflinks are handmade from terracotta clay then glazed with own top secret recipe marbling and finished with a high temperature firing in her kiln. They are then attached to a high quality cuff clip and sold in a luxury presentation case:
Fiftyeleven wooden cufflinks and for the more musically inclined hand carved and decorated plectums:
And for a bit of self-care – beard oils from Merry Band Craft Beard Oil: