Spotlight on the Seller is back for 2018! This year we are changing the blog format a little, and bringing you a short interview with each maker. This week is Emma from ELM Photography.
Business name: Elm Photography
Maker's name: Emma Manners
Describe your style in no more than 3 words. Colourful, creative and unfiltered .
What do you sell in Fabrication? I sell my photographs as cards, prints, coasters and  key rings  and I also sell small collages as cards .
How long have you had your own business and what made you start it? I have been running Elm Photography since 2014 . I decided to make the most of the opportunity presented by redundancy to build on my excitement of my Three Geisha photograph winning a Sunday Times Travel Magazine competition.  I have always taken photographs since a child , but for fun, memories and research as a fashion print designer but I had never done anything with the images in their own right until I entered the competition.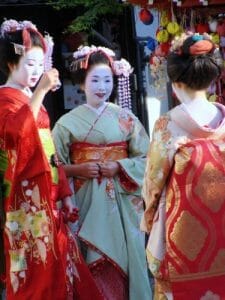 What is your workshop/studio like? Our spare bedroom doubles as my work room, but most of my work is outdoors , even my still life work I mainly shoots outdoors as I only work with natural light .
What is your beverage of choice when working? My beverage of choice is pretty boring  – builders tea when at my desk, and water when I'm out and about.
What do you find the biggest challenge of running a micro-business? The biggest challenge I have found is the motivation to move my work from looking pretty on my lap top screen to being out there and for sale. I find self promotion difficult , I can have amazing ideas , start them with vigour but then fail to maintain . Working at Fabrication makes it so much easier though, sharing ideas and learning skills from fellow sellers is a big part of why I have been at Fab for so long .
If you could go back in time, what would you tell a younger you? I would tell my younger self that life will not be as you expect it to be but embrace it and seize every opportunity , don't be scared to fail.
What advice would you give to someone who's just starting out? To someone just starting out I would say the same, but also look for like minded people, know who you want to sell to and be brave.
Why did you join Fabrication, and how long ago? I joined Fabrication in 2014 , I had been aware of Fab since The Merrion Centre, and had bought several things from there . When I decided to start trying to sell my work it was a natural choice.
If you could buy any 3 things from the shop, what would they be? Three things to buy from the shop is really hard, I buy things all the time , my house and my friends and families are full of beautiful work from Fab sellers. So I have to go big  – all my crockery and tableware made by Margaret Glackin Ceramics, hand built and fitted book shelves ( I have thousands of books ) by Gavin Edwards and hand stitched quilts for every bed by Anna Amarhova .