Each week we feature a short interview with our featured seller, this week is Charlotte from Bobbinaround.
Business name: Bobbinaround
Makers name: Charlotte
Describe your style in no more than 3 words. Vibrant colourful textiles
What do you sell in Fabrication? Hand felted purses, scarves and art produced from wool fibres and reused vintage mohair scarves. Often wool fibres are wet felted and stitched, and then felted again to achieve the desired effect. If you don't see quite what you want, then I am always delighted to take on commissions and also deliver a variety of textiles workshops locally for those that want to learn a new skill.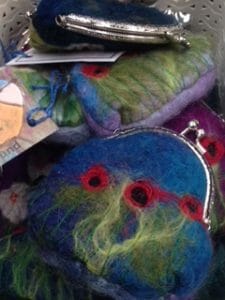 How long have you had your business and what made you start it? My fascination with the properties, textures and colours of wool fibres and fabrics probably started after studying for a Textiles Design Degree from Huddersfield University. I love that when I felt with wool fibres the end product will never be the same as a previous one and will often stitch into the design to accentuate certain areas before turning it into a completed product.
What is your workshop / studio like? Boxes full of colourful wool fibres, bubble wrap for felting,  fabrics and a variety of completed and partially completed projects. It appears to be disorganised chaos, but I know where everything is and where to find it at the right time.
What are your beverage and snack of choice when working? I have no allegiance to any particular snack. If it's offered to me I will usually say 'yes please', but I do like a nice cup of tea.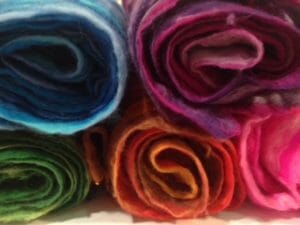 If you could go back in time, what would you tell a younger you? To look forward to the future. Take a deep breaths and not to worry when things go pear shaped but keep trying, it will all work out in the end.
What advice would you give to someone who's just starting out? Be brave
Why did you join Fabrication, and how long ago? I have found that Fabrication is a fantastic opportunity to work with other creative people in one place and share ideas.
If you could buy any 3 things from the shop, what would they be? My house is full of fantastic Fabrication goodies and it's my go to place for gifts for friends and family, but the things I have my eyes on at the moment are a fish mobile recycled from cutlery from Mary Mitchell, wooden wall art by Gavin Edwards and a hairpin leg table from Margaret Glackin