Each week we bring you a short interview with our featured seller, this week is Nicola from Life's Little Blessings.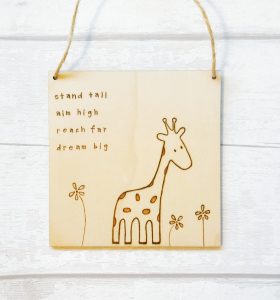 Business name: Life's Little Blessings
Makers name: Nicola Alker
Describe your style in no more than 3 words. Cute, colourful, uplifting
What do you sell in Fabrication? I sell pyrographed wooden signs and hand stitched appliqué and embroideries which are either framed, stretched over canvas or made into cute fabric banners. I also make hand stitched fabric cards and wooden and fabric jewellery and accessories. Everything is designed and handmade by me in co-ordinating designs and themes using natural materials, like lovely birch wood, cotton and linen fabrics and bright, colourful, almost retro prints. I am always happy to create a personalised or custom item.
How long have you had your own business and what made you start it? I started my small business about 4 years ago now. I have always been creative and made cards and gifts for friends and family; they then began to make requests and I soon found myself quite busy. It wasn't long before people suggested I try and sell more of my work.  About 4 years ago I decided to have a stall at a Christmas craft fair and Life's little blessings was born.
What is your workshop / studio like? Currently I work from an old up-cycled bureau in my bedroom and occasionally the dining table; it would be amazing to one day have my own work room or studio somewhere.
What are your beverage and snack of choice when working? It used to be a black coffee but I'm not allowed coffee anymore (*sigh*) so instead I enjoy a  warming lemon and ginger tea…I try not to snack when working but if I do it'll be something like fruit, hummus and oatcakes or tortilla chips.
What do you find the biggest challenge of running a micro-business? I have lots of ideas and find inspiration everywhere so, for me, one of the biggest challenges is finding the time to work on all those ideas; and balancing work with home life. Also, the paperwork side of things can be challenging sometimes… I'd much rather be making something.
If you could go back in time, what would you tell a younger you? I would tell my younger self  'always have the courage to follow your heart and dreams and do what makes you happy.' Life is short so never waste it trying to be something that you are not.  And…do it afraid!
What advice would you give to someone who's just starting out? I would say be yourself, develop your own style and create what you love. Never be afraid to fail; some things work and some things don't, either way you're learning and developing. Be organised, work hard but also make sure you make time to have a day off regularly. I should take my own advice sometimes (lol)
Why did you join Fabrication, and how long ago? I used to visit fabrication as a customer;  as a crafter I really enjoyed the availability of handmade, unique items  and loved the idea of the shop.  One day, four years ago, I got in touch and quite quickly had joined with a few items…
If you could buy any 3 things from the shop, what would they be? Ooo! Now this is tough because there are so many lovely things in the shop but I think the three items would have to be some of Margaret and Catherine's reclaimed wood furniture; some more of Beth Kilburn's artwork and one of Anna's Ahmorova's patchwork quilts.