Each week we bring you a short interview with our featured seller, this week is Jack from Rubbish Seaside.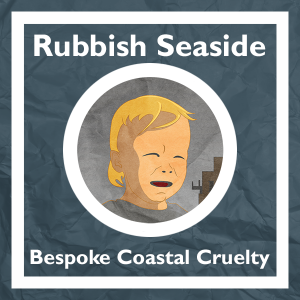 Business name: Rubbish Seaside
Makers name: Jack Hurley
Describe your style in no more than 3 words. Pure coastal cruelty
What do you sell in Fabrication? Scathing parody seaside prints and postcards along with other daft designs.
How long have you had your own business and what made you start it? Oooh, probably about three/four years and mainly because I'm a terrible employee who's far happier getting up to no good on his own.
 What is your workshop / studio like? A glorious bunker in my back garden that I could happily live in.
What are your beverage and snack of choice when working? Tea and vast multipacks of Aldi crisps
What do you find the biggest challenge of running a micro-business? All things admin. Seriously, I cannot stress enough how bad I am at admin-related things.
If you could go back in time, what would you tell a younger you? Be brave, don't be afraid to get stuff wrong, start a band earlier.
What advice would you give to someone who's just starting out? Figure out what everyone else is doing and do something different.
Why did you join Fabrication, and how long ago? Because having your stuff in a shop is super-cool! I joined about 18 months ago and it's been a blast – would thoroughly recommend.
If you could buy any 3 things from the shop, what would they be? One of Bethanie's papercut maps, a gurt big box from Margaret and one of Mrs Mooncow's little felty aliens.