Our independent shop in Leeds is situated on Albion Street in the City Centre. We sell locally made products made by talented crafts people, artists and designers.
With everything from food to furniture, clothing, jewellery and accessories. Art, photography, homewares, body products, garden items, and heritage crafts you can find something for everyone.
We also run hen parties, exhibitions and pop up events from our mezzanine level.
Browse our list of makers here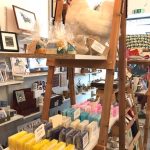 If you are interested in taking space in our shop then get in touch using the contact form, or email us
We are currently looking for the following crafts, metalwork, toys, kid's clothing, macrame, art work, clothing, bath bombs, food stuff. Please note we are full for jewellery, cards, woodwork and candles
Please note all our shop sellers work in the shop and pay for their space within the shop, as part of our remit to stop social isolation and business growth whilst working collaboratively to be able to take on city centre shops. Please don't contact us if you aren't able to do either of these. Thank you