Fabrication Crafts secures National Lottery support to research the history of heritage crafts on Coney Street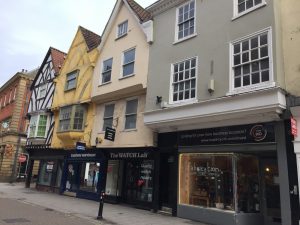 Fabrication Crafts is excited to announce that it has received a National Lottery Heritage Fund grant of £9,700, for a heritage project researching and reinvigorating the heritage crafts that have been created and traded on Coney Street in York City Centre. Made possible by money raised by National Lottery players, we will work with local people to identify the trades and skills that once made this a vibrant trading area for artisans and crafts people.
Supported through The National Lottery Heritage Fund, based on the research findings we will develop and run workshops, demonstrations, oral histories and talks, to raise awareness and for people to develop skills in these traditional crafts. So far we know that there have been tailors, corset makers, print makers, bootmakers, and tin and coppersmithing practiced on the street, some of which are on the endangered heritage crafts list
Fabrication Crafts is an organisation that was set up to promote the heritage of traditional manual craft skills as we believe the importance of keeping traditional crafts alive is vital. Since November 2018 we have been lucky enough to run a pop up shop for local artists and designers in the 1600 built listed building of 24 Coney Street York, owned by the National Trust, which has brought together the key elements of our organisation and inspired this project.
We will be collecting the stories of those who have worked and traded on Coney Street, and invite people to pop in to talk to us and send us any information and photographs they might have
Notes to editors
Notes to editors
About Fabrication Crafts
Fabrication Crafts is a social enterprise set up in 2008 to support local artists and makers with work and retail space and a special interest in heritage crafts. Based in Leeds city centre it also opened a shop in York 2018 and sells work by approx 50 local makers in York
follow @FabricationYO1 for this project on Twitter and Fabricationcrafts on Facebook and Instagram with #yorkheritagecrafts
About The National Lottery Heritage Fund
Using money raised by the National Lottery, we Inspire, lead and resource the UK's heritage to create positive and lasting change for people and communities, now and in the future. www.heritagefund.org.uk.
Follow @HeritageFundUK on Twitter, Facebook and Instagram and use #NationalLotteryHeritageFund
Further information
For further information, images and interviews please contact Dawn Wood at Fabrication Crafts Ltd on info@fabricationcrafts.co.uk